At long last...
Sunday, September 10 marks the return of HBO's awesome and epic Baltimore cop series,
The Wire
. A direct descendant of my beloved
Homicide: Life on the Street
,
The Wire
has delivered three seasons of television excellence.
Season one focused on the drug trade in the city's dreaded high-rise housing projects. Season two shifted attention to the city docks, and the working men who get caught up in the illegal smuggling trade.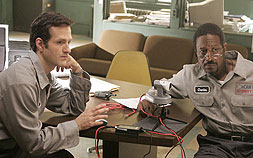 Season three went back to the drug neighborhoods, as the trade moved out into the city following the demolition of the high-rises. Season four looks to go into the public schools.
While being a dense, well plotted, ensemble police procedural,
The Wire
charts the long and steady demise of middle class, blue collar America. It barely survived being renewed for a fourth season - we're lucky to be getting it.