whatskeezelwatching
Kiss, Kiss, Bang, Bang
- Very entertaining homage to LA film noir...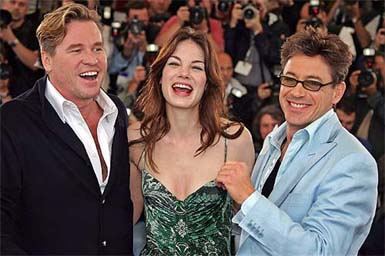 Robert Downey Jr. is terrific, Val Kilmer has suddenly wised up, realized he's NOT Brad Pitt and started acting - he's great in this. And Michelle Monaghan just dives into her femme fatale role with gusto and glee. Highly recommended.
The Cider House Rules
- Somehow I never got around to seeing this until now. The abortion issue disguised as charming "orphan coming of age movie." Well acted, nicely defined characters, wonderfully filmed. Unfortunately, the abortion debate hovers at about the 10th grade level.
Nice enough movie - but simplistic.
Pink Floyd: Pulse
- Live concert recorded in England in 1994, originally released on VHS, now remastered and remixed for DVD. The sound is awesome, the picture top notch, the performance sublime and the stage show (two years after U2's mind-boggling
ZooTV
tour) is wonderful. Includes a complete performance of
Dark Side of the Moon
. The ultimate bookend to Roger Waters'
The Wall: Live in Berlin
.