Guilty Pleasures
I'm not a horror movie fanboy and I'm not a monster movie fanboy but there are select horror and monster movies that I really, really like. The
Underworld
movies have become faves. They're not great movies by any stretch of the imagination and they're not even particularly original. But you get vampires and werewolves in the same movie and lotsa good shoot 'em up.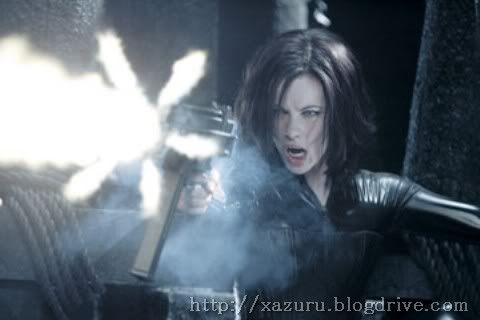 Kate Beckinsale stars as Selene, vampire "Death Dealer" on a 600 year tour of duty battling the werewolf clan. We soon discover the feud between the toothy monsters isn't as simple as it seems and Selene finds herself on the run from bats and pooches alike protecting a new, hybrid vampwolf guy...
Whatever...
The first movie was a bit long and the gore was staged for squeamish effect. The latest installment,
Evolution
, has been kept below two hours and the gore is more explosively staged for a visceral, adrenalin pumping experience. Loved it. If I had any beef, it is that the second movie takes its time cutting Selene loose for some serious Death Dealing...
So, what makes one monster movie better than another? Heck, I don't know. Just watch what you like - no need to get all testy about it...