Um...No.
Entertainment Weekly has produced a list of the top 10 car chase scenes. Here's their list...
10 -
Terminator 2
9 -
Charlie's Angels
8 -
Death Race 2000
7 -
Blues Brothers
6 -
Thelma and Louise
5 -
Man with the Golden Gun
4 -
Road Warrior
3 -
Ronin
2 -
Bullitt
1 -
French Connection
Any car chase fan should agree that putting
Bullitt
at number 2 completely discredits this list right out of the gate...
And putting it under
French Connection
only compounds the stupidity.
Thelma and Louise
? Please.
Death Race 2000
? Totally fun movie, but the vehicle action is strickly grade B...
I haven't seen
Charlie's Angels
so I can't comment. And Bond chases are always fun, but they tend to be a bit ponderous, lacking that adrenalin releasing kineticism of the great chases.
Including
Ronin
is a classy move...
Directed by old school master John Frankenheimer it's great to watch some super intense car chasin' done without computer generated FX - relying totally on...real cars going real fast.
Featuring Robert Deniro, Jean Reno, Sean Bean, and Jonathan Pryce, you can find
Ronin
on DVD under $10 pretty easily. Well worth it - Frankenheimer even treats Katarina Witt the way you always wanted to...
French Connection
is a decent chase scene, you just can't put it in above
Bullitt
.
Road Warrior
is a solid choice and so is
Terminator 2
. Indeed, all three Terminator movies have great chase sequences...
I guess we should include
Blues Brothers
as well just for sheer volume and audaciousness. So what might I add to the list...
Whatever you may think of
Terminator 3
, the chase sequence with the crane is pretty darn good.
Bourne Supremacy
also has a terrific chase in Moscow...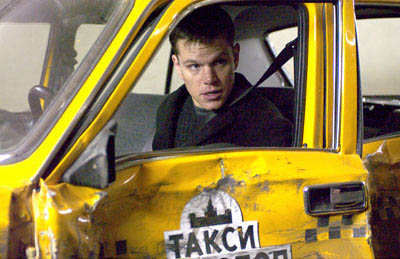 You can't talk about car chases without bringing up Indiana Jones - and I'm thinking the truck chase in
Raiders of the Lost Ark
just edges out the tank sequence in
Last Crusade
but I could be persuaded otherwise...
We haven't even gotten into the whole silent film era when they used real cars and real trains and real planes for the stunts. There's got to be some great chases I'm not thinking of. Whadda you think?