Mortification of the Flesh
This has been a punishing few months for our pals out there in Vegas doing the
CSI
thing. The producers have been methodically beating and shooting the snot out of the cast...
The finale of last season featured a two-part episode in which legendary tough-guy Detective Jim Brash was gunned down by some half-wit suspect...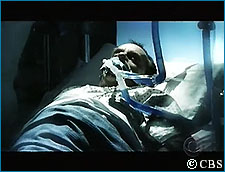 But they let him live...
Don't let the frumpy lab coat and haphazard pony tail fool you. We usually see Catherine Willows on the job dressed like this...
Queen of the flashlight evidence search. We also know about her past as a pole dancer, her "old Vegas" daddy, her lousy ex-husband who had the decency to die or something a couple years ago - and we also know that she lives her life like a 22 year old party girl...
So they drugged and raped her and left her in some sleazy, sweaty motel room to collect her own evidence. But WAIT, she wasn't raped, she was merely drugged, carried to the motel, disrobed, and had a bad Polaroid made. Whew, raping a main character was pretty risky. So they gave her a reprieve...
...and gunned down her corrupt father, "old-Vegas" Sam Braun.
And now poor, old Greg. CSI's resident alt-rock geek boy, sporting a mad variety of spiked hair displays over the years, the character has clawed his way out of the doldrums of the lab to the exalted field officer position. Just two weeks ago, Greg combed his hair down, put on a real suit, and took his case to court where his evidence won the day. He was so excited he kept the suit on, he
liked
the suit.
So they had a gang of disaffected, souless teenagers beat him to within an inch of his life.
The most recent episode let the stars off the hook but continued in the punishment theme. The murder involved someone crucifying a woman on a wooden cross and hanging her up in the rafters over a statue of Jesus in the chancel of a Catholic church - her blood dripping down creating a false stigmata on the statue. Yeah! And in the end, she turned out to be the temptation who had lured the parish priest away from ministry - he was going to quit the church to be with her. The priest didn't kill her - it was Big Hombre, used car dealer supreme...their mutual best friend...who had also been sleeping with her...and she was pregnant with his baby.
And they say television is immoral. Who's next?