Au Revoir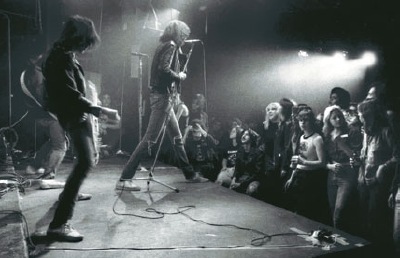 Wolcott has penned a nice
farewell to CBGBs
...
Tom Verlaine and Richard Hell may have been Lewis & Clark of the Lower East Side, discovering and claiming CBGB's for the future punk poets of America as Hilly Kristal gave the shrug that changed history, but it was Patti Smith who made everything possible--Patti who was CBGB's first star and benediction spirit, Patti who channeled the nomadic nerve of Rimbaud and Isabelle Eberhardt, the bop prosody of the Beats, and the monochromatic drive of the Velvets through her scrawny frame and expressive, air-sculpting fingers.
I went to CBs in 1978 - saw The Dead Boys...
Opening act was Screamin' Mad George and The Mad. I was still wearing Levis cords and had the long, long hair so I stood out quite a bit. But there was no attitude, no hassle. Everyone was nice and there for the music. Sid Viscious was in the crowd - probably with Nancy. Late in the evening I came across Joey Ramone at the bar and we chatted for a bit. More Wolcott...
As Jim Farber points out in his Daily News au revoir today (and I appreciate the kind mention), even in its punk heyday CBGB's never drew that large a swarm: "Though every national publication (save Field & Stream) glowed about the bands here, you'd see the same 200 freaks there every week."





And the number of freaks would shrink to a smaller corps of hardies as the evening wore on--a Sunday night second set by Television or the Heads might hold only fifty or sixty of us enthralled. I tended to hang at the back, taking the wide view, but for the second set I'd stand nearer the stage, not wanting to miss a thing. I think I'd knew even then that I'd never be that close to anything that phenomenal again, and that nothing else the night had to offer could compare.
Try this Dead Boys DVD...
for a nice documentation of a typical nite at the "hole-in-the-wall" bar. Be sure to check out the extras for the Steel Tips performance that opened the show.
Anyone remember what the OMFUG stands for?
UPDATE
: "Other Music For Uplifting Gormandizers"