Open the iris...
The new
Stargate
seasons premiere this Friday nite:
Stargate SG1
at 9pm,
Stargate Atlantis
at 10pm. It is true that
SG1
is past its prime - I don't know that it has officially Jumped the Shark but it seemed to slip out of focus with the demise of the Goa'ld - not unlike
ST:TNG
with the humanizing of the Borg in "Hugh". (Yes, I'm totally geeking out here...)
When you wipe out your ultimate enemy, then you have to come up with a new ultimate enemy and that ain't always easy.
Stargate SG1
had their Borg-like replicators, but the writers couldn't help themselves and individualized them with the humaniod replicators. Not that it wasn't cool to see Rainn Wilson as a replicator nerd who was just as obnoxious as his character Dwight on
The Office
...
And if all that weren't bad enough, Richard Dean Anderson...
called it quits and retired to be replaced by Ben Browder...
Now Browder's a good-lookin' guy with an easy-going nature about him. But I don't know that he has the acting chops of Anderson. Browder is trying to play Lt. Col. Mitchell as a laid-back southern boy and it doesn't really work. As well his character is entirely frustrating. Anderson played Jack O'Neill as an action figure...
But Jack knew he was an action figure and understood the limitations of his abilities. So he'd step back and let the eggheads do their thing - to a point. And if Daniel and Carter couldn't come up with a solution, then Jack would definitely start blowing stuff up.
Browder's Mitchell is an action figure, who thinks he knows better than everybody else. But he's been dead wrong in many key instances. This is doubly annoying when he spent the first few episodes kissing the bottoms of the SG1 team members to stay on board and keep the team going. Now that he has them, he pretty much ignores them.
The producers have countered the issues with the main team by adding Claudia Black as a semi-regular...
Black's Vala is a great character, a shady lady with a shady past, a tough broad who prefers to look out for herself and is not the least bit impressed with the SG1 heroics...
More Claudia Black, please.
This year will see the addition of Morena Baccarin as a semi-regular baddy - Adria - the evil daughter of Vala. (I guess they just couldn't bring themselves to doing an evil twin. They should have gone for it - the only thing better than one Claudia Black would be two Claudia Blacks.) Who is Morena Baccarin? You know her from
Firefly
and
Serenity
...
There really is a Sci-Fi ghetto...
Browder and Black are both refugees from the cancelled
Farscape
. Morena from the cancelled
Firefly
. Last year
SG1
featured Lexa Doig from the recently completed series
Andromeda
...
And we were even treated to a couple episodes with William B. Davis...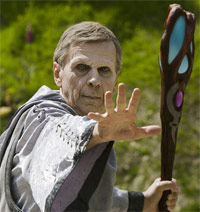 Who? Cigarette Man from the venerable
X-Files
...